You've got a new electric vehicle. Maybe it's used but still new to you. Either way, you should simply plug it in, charge it, and go. But is that really all you need to know?
Partially, yes. You plug it in, and in the same way you do not have to know how combustion works to use a petroleum-fueled vehicle, you don't have to know what is happening to charge your EV. It's like every other electronic device you own – when the battery is low you plug it in, charge it up, then unplug and go wherever you need.
There are some more things you probably want to know.
Your charger isn't the charger, but it is your charger.
Despite everything written here, go ahead and call your wall-mounted (or pole mounted) charger a charger.
First, something that ultimately isn't important but is good to know: The things you plug into your car, like your Easee Charger, are technically not chargers. The charging device is in your car. What we (you, me, and the industry) call chargers are simply electrical outlets with special cabling. The car's On-Board Charger (OBC) converts AC power to DC power. Because it controls this conversion, it also controls the amperage and voltage the vehicle's battery needs to be charged, which extends the life of the battery. If you use DC charging (Easee chargers do not handle DC charging at the time of this writing), the On-Board Charger is bypassed.
That big block on your laptop power cable? That is doing essentially the same thing as the car's OBC.
The On-Board Charger's control of current balances two methods of sending power to the batteries: constant current, and constant voltage. Constant current allows for fast and efficient charging, but has a risk of overcharging the battery. Constant voltage charging is safer to use when the battery is more than half full. If constant voltage charging is used on an empty battery, for example, it could overheat the battery because constant voltage is inefficient.
The On-Board Charger balances these two methods of charging with what is called the charging strategy.
That is a lot to take in. Don't worry about calling your Easee device a charger. Most everyone does. Even the industry calls it a charger, which is why many manufacturers call the device on your wall the charger, and call the device in your vehicle the OBC.
This charging strategy gets into something else you may have noticed in the other things you charge, such as your cell phone.
Why does the first 80% of charging go faster than the last 20%?
You've maybe noticed this in your cell phone. The final 20% of a complete charge goes slower as a safety feature. The system slows down to charge safely and avoid damaging the battery. This is also why charge times for vehicles measure up to 80% full, since that speed is more predictable based on charging strategy and available amperage.
A better metaphor would be filling a bottle with water at your kitchen sink. For the first 80% of the bottle, you run the water quickly. But if you don't slow down the water, if you don't regulate the flow, you'll overflow the bottle and waste the water. Slowing the flow will help you fill the bottle to capacity with as little wasted water as possible.
Even though we said the charger is like a socket you plug your car into, it isn't. The difference between plugging in a car and plugging in your television is that the car directs when the electricity flows. When you plug your car in, nothing happens until the car sends the charge command. Then the charger will provide electricity.
Safety measures while charging
There are some things which, hopefully, go without saying. Don't stick your finger in the socket, don't lick the plug, read all your car's directions, don't use a damaged charging cable, don't use the Easee charger to charge a battery from a non-electric vehicle.
But sometimes people need practical advice. And in fact, all of this applies to all charging, including the public charging stations.
There are other safety measures to be aware of, though, and maybe not as obvious.
Plug the cable into the charger first, and then the car.
Yes, you can charge in the rain, and it is safe to charge if your plug is wet.
Don't charge a damaged battery.
Park close enough to the charging station so you do not stretch your cable.
The car starts the charging process. It signals to the charge through the charging cable to send power. If there is no good connection, the charger will not be able to confirm the signal and will not allow charging to start. This is why cables that are not made by Easee or your car's manufacturer are never recommended. Either use the cable your car came with, or an Easee charge cable.
Always inspect your cable before connecting to make sure there is no damage.
With other chargers, you should not leave your car plugged in all the time. The Easee chargers, however, keeping your car plugged in will reserve power for charging. This allows you to leave them plugged in all the time, such as when you use a charging schedule to take advantage of lower electricity rates.
To extend the battery life in your EV, you should keep the power level between 20 and 80%. Repeated complete depletions reduce the life of the battery. The mindset of "fill when empty" that petroleum-fueled vehicles create does not work well with EVs. Charge as you need, rather than when it's a necessity.
Preventing common charging issues
At Easee, we often hear about misunderstandings regarding why the car is not charging. There are some common issues that you can prevent before they happen.
Essentially all electric vehicles require at least 6 Amps (A) of power before charging will start. Some require more. Make sure you know the minimum requirement for your car and that that much power is available for the car.
If you do not keep your plug permanently attached to your charger, make sure you plug the cable into your charger first, and then the car.
If the charge does not start, try unplugging your charging cable from the car (not the charger) and plug it back in. When unplugging the cable, always unplug the car first.
Make sure the cable is firmly plugged in to both outlets.
Some cars will only charge if the charging is 1-phase only. In the Easee app you can set your charger to "Lock to 1-phase".
When you are done charging, unplug the charging cable from car first, and then unplug it from the charger.
How far can I go on one hour of charge?
Because electric vehicles take longer to "fill" than petroleum vehicles, you may start thinking about car use in terms of charge time in the same way some think of car use in terms of tanks of fuel.
These numbers will differ from vehicle to vehicle, and the type of driving, and all of the usual reasons a vehicle's efficiency will change from day to day.
The average efficiency of cars currently on the road is 100 km (~62 miles) per 18kWh. Based on that number, one hour at the following kW would allow you to go about…
| | |
| --- | --- |
| One hour of charge with a charger at | Range in km |
| 7.4kW | 40 |
| 11kW | 60 |
| 22kW | 120 |
EVs are getting more and more efficient, but as always, there are so many factors influencing the amount of power going to the car as well as so many factors affecting a car's efficiency that these numbers are at best rough estimates.
How much can I save using an EV instead of a vehicle with an internal combustion engine (ICE)?
Typically, a new EV costs more than a new equivalent ICE, but many European countries offer subsidies on the purchase of new EVs. Some areas offer subsidies on charging equipment as well. But there is much more to using a vehicle than the purchase price. We'll look at some of the basic costs.
Maintenance
The maintenance of the internal combustion engine is a substantial part of routine maintenance in a petroleum-fueled car. The Nürtingen Institute for the Automotive Industry published a report in September of 2022 showing that in Europe, maintenance costs for electric cars were roughly 30% lower each year than for the equivalent ICE car. (reference) In the United States, Car & Driver magazine and the American Automobile Association calculated it at 20% cheaper per year in the US. (reference)
Electricity vs Fuel
As difficult as it is to state how much it will cost to maintain a car, given how the car will be used, the conditions, and so forth, the cost of powering the vehicle is even harder to determine. Electricity costs are wide-ranging all over Europe. How efficient the vehicle is depends on how it is driven, and so forth. However, even considering the price of electricity per kWh went up 72% across Europe over 2022, and government subsidies kept fuel prices rising only 15%, it is still much cheaper to drive an EV compared to an ICE.
According to NGO Transport & Environment, the cost of electricity in September 2022 to drive an EV 100 km was about 6,5 euros. The cost of diesel to drive an ICE 100 km was 10 euros, and petrol 12 euros. (In September 2021 the costs were 4, 7, and 10,5 euros, respectively.) (reference)
That means the average savings in Europe between electric and diesel power is 54%, and electric and petrol is 85%. This varies by country, obviously: In Germany and Italy, with a heavier reliance on fuel causing high electricity prices, electric is only marginally cheaper than diesel. Charging in Spain is 120% cheaper than petrol, and charging in Poland is nearly 200% cheaper than petrol.
If you have off-peak charging rates, then you will save even more.
If you want to calculate numbers based on your local petrol, diesel, and electricity costs, the European Commission offers an alternative fuel calculator to help find how much you can expect to pay to charge your car per month. And the Easee charger is designed to help you schedule charging around the cheapest times, helping you save more money, more consistently.
How can I make my car charge faster?
The most important thing is to understand that your car cannot charge faster than the battery and vehicle's on-board charger (OBC) allow. If the maximum charging speed for your vehicle and battery is 7 kWh, a 22 kWh charger will not change anything. You will still charge at the same rate.
The biggest effect on charging speed and vehicle range is cold weather. Batteries are little more than chemical reactions, so colder weather affects those reactions. Charging when it is warmer will charge the car faster. But this isn't always possible. This is why you have set a scheduled charge on your Easee charger, so you can plug in your vehicle and the charging will start during the cheaper rate periods.
The variable in charging speed you will have the most control over is the amount of power the charger can use. At your home, the charger will have to share available power with the rest of the house. If you try to charge during times when the house is using lots of electricity (laundry, hot water, etc), then less power will be available to the charger, and thus slower speeds of charging The charger can not detect low power availability on its own, which can lead to blackout conditions if too much current is pulled on the main fuse. Using the Easee Equalizer, if available in your country, will solve this. The Equalizer will adjust the current used by the charger to make the best use of the available electrical capacity. It will never allow more current than what is available. You can also make sure you charge during times when there are little-to-no loads on the power, such as overnight, or when nobody is home.
Most other things that affect the charging are out of your control. The power grid itself, meaning the stability of the power delivery to your home, will have a huge effect. Extreme temperatures can affect charging speed as well.
One more thing you can change about the speed of charging is battery maintenance. Batteries should not be run to 0%, for example. If you consider 20% the point you need to "fill" and 80% the point that the batteries are "full" – or at least "full enough" – then the amount of time it takes to complete a charge will be less. This is not altering the rate of transfer of power from the charger into the vehicle battery, but it is reducing the time it takes to go from "empty" to "full".
Warranty
The warranty period of the Easee charger (including the Easee Home, Easee Charge, and Easee ONE) varies from country to country due to different laws.
The warranty is five years from the date of installation in the following countries:
The warranty is three years from the date of purchase in the following countries:
Netherlands
Belgium
Luxembourg
France
UK (Easee ONE only)
The warranty is three years from the date of installation in all other countries. This includes the Easee Charge Lite and Easee Charge Corein the UK.
Installation must be done by licensed electricians.
Charging plugs and cables
The charging cable may seem like the simplest piece of equipment, but when your car has a type 2 plug (that is, nearly all electric cars), there's a lot more in the cable than you may expect.
But let's back it up a little. Type 2? There are two types of plugs. Type 1, and type 2. Your Easee charger, and essentially any charger on the market, will have a standard type 2 plug. Your car will have either a type 1 plug or, more commonly, a type 2 plug.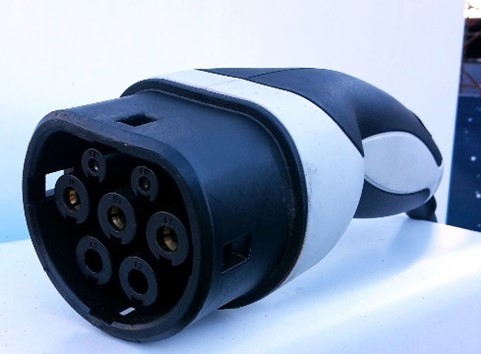 (photo credit: Hadhuey - Own work, CC BY-SA 4.0,
https://commons.wikimedia.org/w/index.php?curid=45826314)
This is the type 2 plug. In the top of the plug in this photo is a small hole, that is the locking port for the connection to the charger. The section of connecting pins is referred to as the 'flower' in the EV charging industry. This will plug into your charger, and there will be a similar one to plug into your car.
Type 1 plugs are held in place with a latch, and type 2 plugs have a locking pin inside the 'flower'. In both cases, these are to make sure your cable is not disconnected.
Some cars will have two more larger plugholes underneath the 'flower'. Those are for DC charging. These plugs are called CCS Combo plugs, and are type 2 plugs with two additional, larger single sockets underneath the flower socket.
The cables also come in Type 1 and Type 2, but for different reasons. A type 1 cable, for instance, will have a type 2 plug to connect to the charger, but a type 1 plug to connect to the car. There are a few differences between the two cables.
Type 1 cables:
Contain resistors to detect when the cable is connected to the car, and shut off charging when the lever is pressed to detach the plug from the car.
Only charge on 1-phase electrical power.
Have a type 1 plug on one end (the car end) and a type two plug on the other end (the charger end).
Common cars that use type 1 cables/plugs:
Citroen C-zero
Ford Focus Electric
Mitsubishi Outlander PHEV
Kia Soul EV
Nissan Leaf (up through 2017)
Toyota Prius
Vauxhall
Peugeot (has both type 1 and type 2 plugs)
Type 2 cables:
Contain resistors that communicate with the on-board charger to control the supply of power. Through the electronics in the cable, the car 'communicates' with the entire charge system to keep the flow of electricity smooth and stable, and allows the charging strategy to efficiently charge the batteries.
Charge on 1-phase or 3-phase electrical power.
Have type 2 plugs on both ends.
Common cars with type 2 cables/plugs:
Audi E-tron
BMW i3
Hyundai
Jaguar
Kia (except the Kia Soul stated above)
Range Rover
Renault
Mercedes Benz EQC
MINI Countryman
Nissan Leaf (2018 and newer)
Porsche
Smart
Tesla
Toyota
Volvo XC T8
Volkswagen
Generally, EVs sold in Europe will have type 2, and EVs sold in Japan, Korea, and North America will have type 1.
It might seem confusing at first, since there are two types of plug and two types of cables, but it comes down to how much power your car's on-board charger can handle. Type 1 is for lower power and slower charging speeds.
However, both cable types have their own electronics to help monitor the charging process and to keep the process safe. And Easee chargers support both types of cables.
If you want to buy a new charging cable, it is recommended to get one as long as you can so that you are able to easily reach the charger no matter which side of the car the charger port is located on.