The Site card shows the monthly and yearly averages of power consumption, the total consumption, and settings for the site as a whole.
The card is accessed by swiping the charger card down. The first items shown are the power consumption reports, and a link to the Site settings card.
Press Month, Year or Total to view the information about the power used on the full site.
Press Site settings to continue to the settings.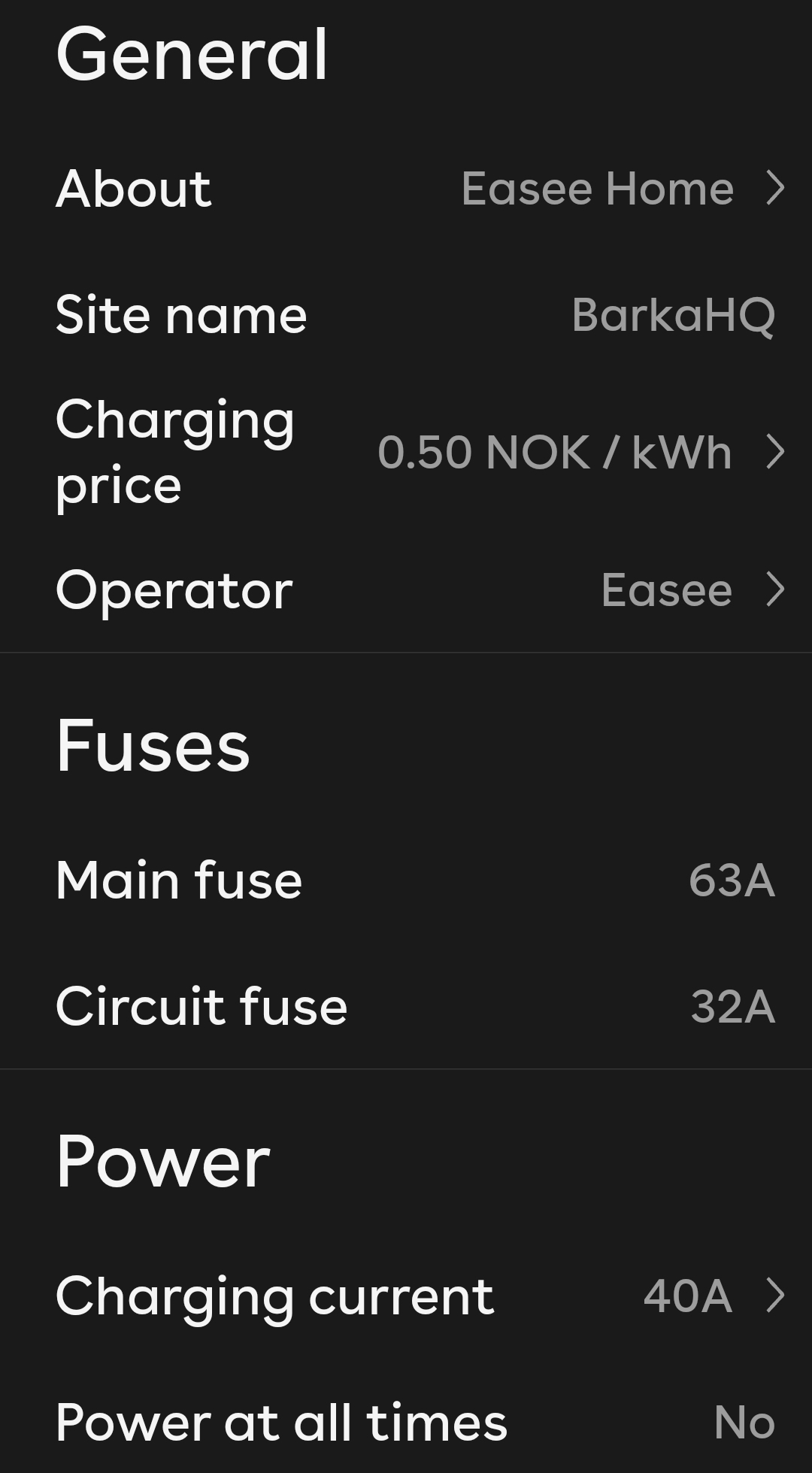 Details
General section
About — Press to view the address of the site, the site type, and your role on the site. To change the address, after you press About, Press Address, and you can then press to change each portion of the address.
Site name — The site's name. Use this name to search for the site when using Easee Portal.
Charging price — The price per kWh of power. Press to change the price and currency.

When you enter a currency in the app, it enters the VAT as 0%. This means that the price both with and without VAT will be set the same and the the VAT will be set to 0%. If you want to set the VAT, you must do so in Easee Portal.

Operator — The site operator. Press to see the site operator's settings. You must have proper access to change the operator.
Fuses section
Main fuse — The size of the site's main fuse.
Circuit fuse — The size of the circuit fuse of the circuit that the current product is on.
Power section
Charging current — Maximum charging current for the circuit. Press to set the value either in amps or as a percentage of the amperage available.
Power at all times — Whether or not the charger is set to always have at least 6A available regardless of site- or circuit-wide load.
Charging schedules will override the Power at all times setting. If you want to use power through the Easee charger outside of the scheduled times, for example, pre-warming the car using mains power rather than the car's battery power, then you will need to adjust the schedule to include the times you want to do that.