There are different versions of Easee chargers, but the base functions and installation methods of these chargers are very similar. The Easee Lite and Easee Home are intended for home installation (also known as SDU, for Single Dwelling Units), with no more than three chargers in the circuit. The Easee Charge is intended for larger installations (known as MDU) with larger infrastructure, allowing as many as 101 chargers on one circuit.
Installation
Installation must be done by an authorized installer.
Features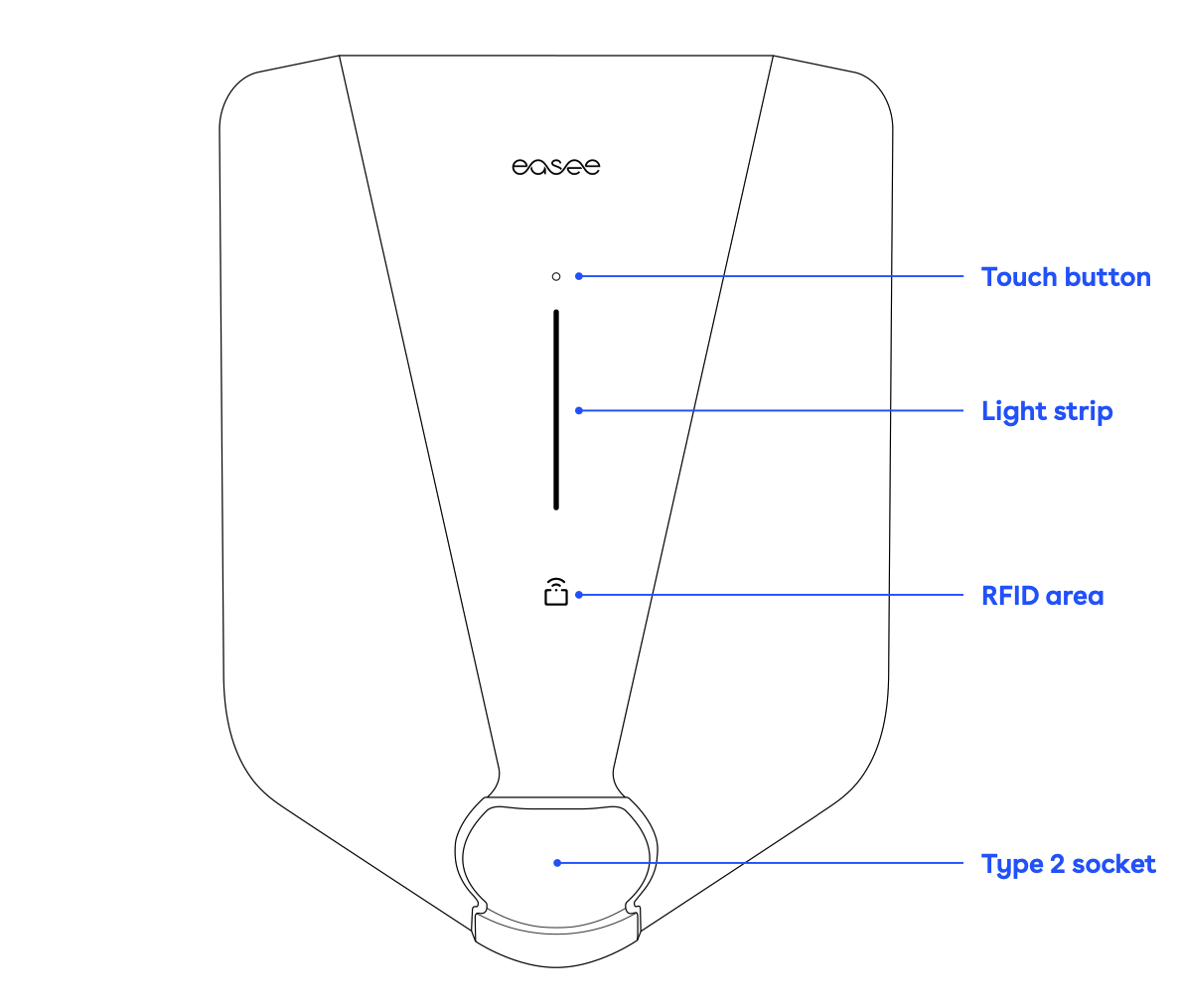 Touch button — Used for installation by the installer or to activate the WiFi interface.
Light strip — The light strip shows the status of your Easee charger at all times. You can also view the light strip status from easee.cloud and the Easee app.

What do the different colors on the light strip mean?

RFID area — The integrated RFID reader enables access control of the Easee charger and identification of different users. You can use it to unlock the charger with an Easee Key or other RFID supported device.

Can I lock the charger so only I can charge?
Access Control
How do I add an Easee key to my profile?

Type 2 socket — The type 2 socket is completely universal and allows you to charge any type of electric vehicle using the appropriate charging cable. The Easee chargers allow you to permanently lock the charging cable, so that you do not have to worry about it being stolen.
Accessories
Easee offers a variety of accessories for your Easee charger.
Equalizer — Designed to optimize your charging experience and balance the electrical load.
Charging cable — High quality charging cable that fits perfectly with your Easee charger.
Easee Portal — Gives you a full overview and easy administration of your Easee charger.
Easee app — Gives you full control of your charger at home or on the go.
Easee Key — Makes access to controls and payment very easy.

How do I add an Easee key to my profile?

Easee base — A solid base for mounting up to four Easee chargers.
Easee U-hook — An easy to use and convenient way to store your charging cable.
Easee front — Your Easee charger can be fitted with a new colored front. Match your car!