The Easee app is a great tool for managing your Easee chargers. It works great with both Easee Home and Easee Charge chargers as well as the Equalizer.
Once downloaded, you can create your user account.
Using the app
When you use the app, you see this screen: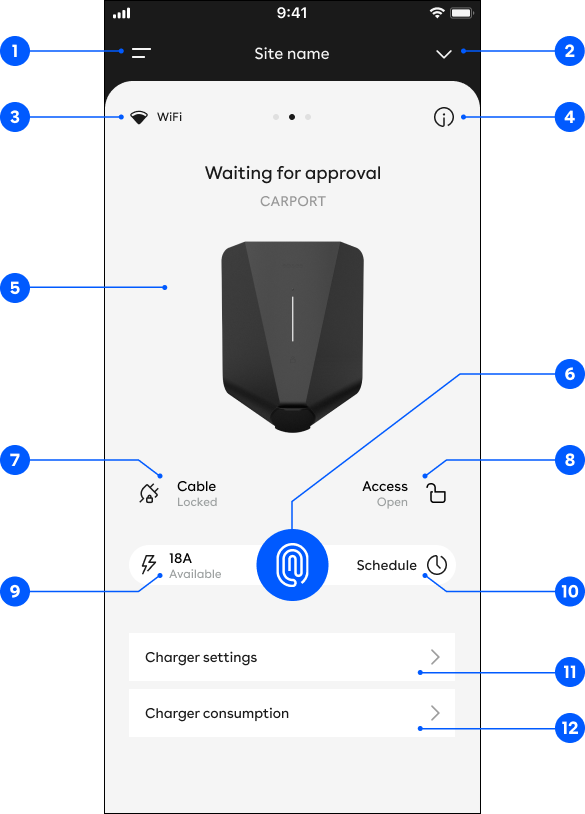 Main menu

Here you have access to:

---

Profile.
Products.
Consumption.
Preferences.
Notifications.
Support.

Site card — This is where you get access to your site settings as well as consumption data for your site. In site settings you can change settings regarding your site. You access this card either through the arrow or swiping down the charger card.

You can view and change settings such as:

---

Site name.
Charging price.
Fuse settings.
Power settings.

WiFi/Cellular — This icon shows whether you are connected to WiFi or to cellular. Tap the icon to configure WiFi.

More information on configuring WiFi is in WiFi Connections.

Information menu — This is where you can find information about the different settings available in the app. Want to know what an icon means in the app? Check here!
Charger Card — This entire screen is your Charger card. The Charger card is the first screen to greet you when opening the app. Here you find all your menu options and you will also see info regarding your ongoing charging session. Tapping the charger gives you access to live phase information. Each charger you control has its own Charger card. You can easily swipe between the Charger cards.
Primary action button — The primary action button is unlabeled. With the primary action button you can approve, pause, resume and stop your charging.
Cable lock setting — This is where you control your cable lock settings. There are two cable lock options:

Unlocked/Locked — The cable is locked while charging, and unlocked when not charging.
Always locked — The cable is always locked to the charging robot.

Access — This is where you can cycle between access controls. You can choose between Open to all and Only RFID key.

Complete information is at How do I configure access to the charger?

Available charging current — This shows the current, in volts, sent to your car by the charger.
Schedule — This is where you set your charging schedule. Set the time window for when you want your charger available to charge.
Charger settings — Press to view and change settings for your charger.

Complete information is at Charger settings.

Charger consumption — Press to see how much energy the charger has used in the past month or year.